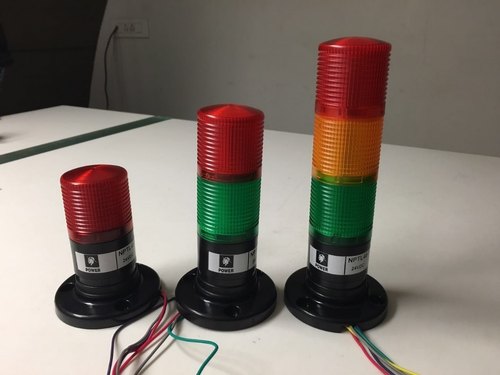 Signal Tower Lights, also known as, indicator lights, warning lights, and on lights, industrial signal lights, etc. are very commonly used on various equipment in industrial manufacturing and process control environments as it serves as an indicator of a machine's status and provides warning signals to machine operators, technicians, production managers and factory personnel. The purpose of these lights is to identify the errors as it happens.
Signal tower lights are generally columnar in structures and are available in a variety of shapes. A stack light will typically have up to 5 coloured segments to indicate any errors or on the machine or process. The colour combination is typically red, yellow, green, blue or clear white. The colours are either off, solid-on (continuous) or flashing.
The functions of these lights are –
=>RED: When there is a failure in the machine
=>YELLOW: Serves as a warning signal for over-temperature or over-pressure conditions
=>GREEN: Normal machine or process operation
=>BLUE: Indicates external help request, where an operator might be requesting for raw materials or maintenance assistance
=>WHITE: User command to a specific machine, often related to productivity monitoring
                               Related Blog – Highlighting The Benefits Of Tower Light
Common Applications –
=>Productivity Monitoring
=>Lean manufacturing
=>Warning Indication/Machine fault
=>Assembly station work cells
=>Maintenance call stations
=>Broadcast studios
What makes one of the best tower light manufacturers in India?
JIGO is one of the leading manufacturer and supplier tower lights and various other electrical products in India. Our strong technical capabilities, commitment to innovation, and motivated and enthusiastic staff that is eager to promote our world-class products ensures a secure future and expanding market base. With a strong 300 dealer network throughout India, we have set the standards in Brand Loyalty, Services, Range of Products, Quality and Price.
We manufacture tower lights of voltage – DC12V, DC24V, AC110V, AC220V. The tower lights which we manufacture meet international standards and are manufactured using top-notch quality materials.